A Tapestry of Swimming Books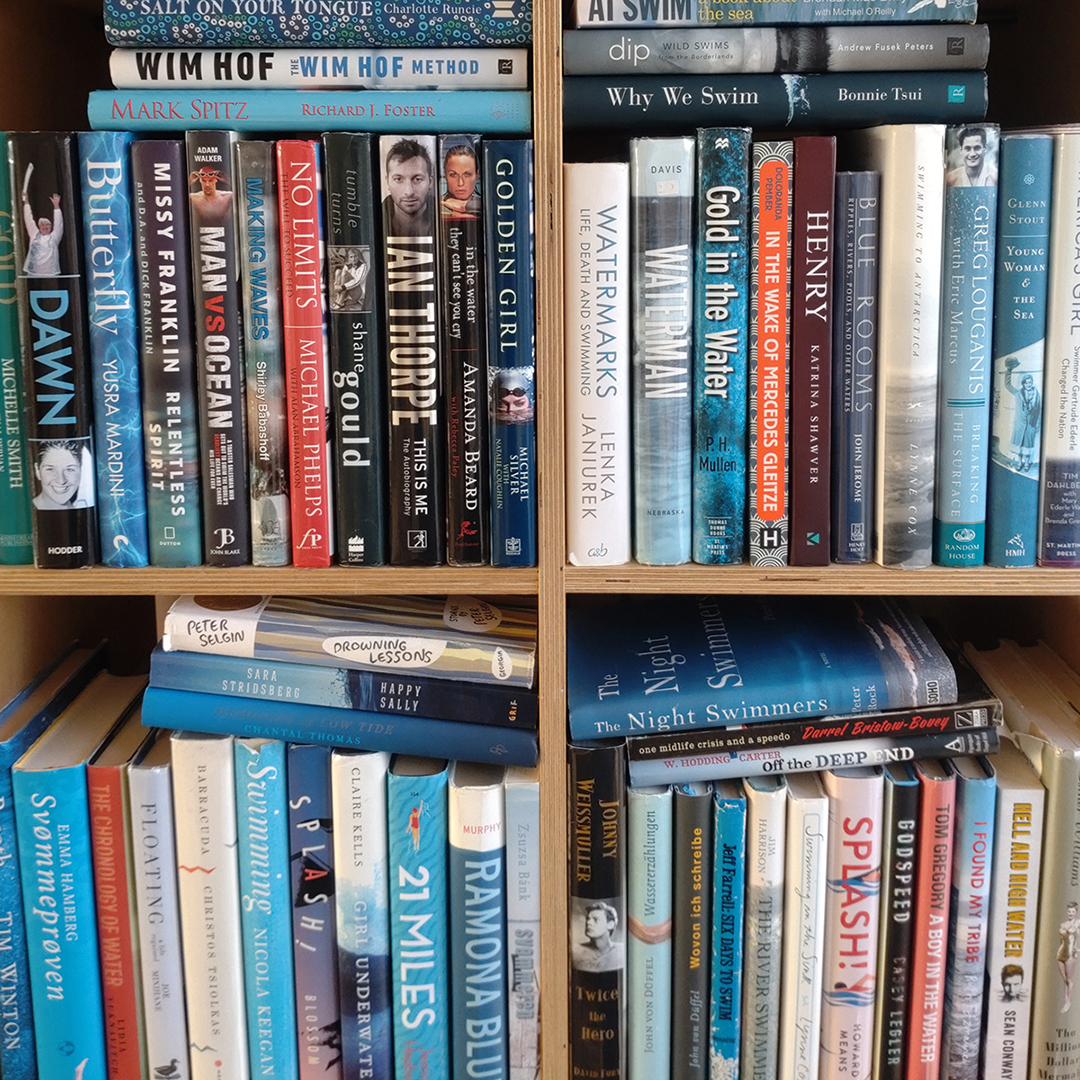 I have been fascinated by swimming since I first started out in the water at age six. When I was 20 years old I discovered a book called 'Haunts of the Black Masseur' by Charles Sprawson and I have been in love with literature about swimming ever since.
There are many books to be read. Ralph Thomas' book 'Swimming' from 1904 is a great example. He spent 10 years travelling to libraries all over Europe to find and write about every book ever written on the topic of swimming in English, German, French and Latin. An impressive feat in itself, but the book turned out to encompass almost 500 pages of tight writing about every aspect of swimming. I can only recommend that you seek it out. It is a cornerstone if there ever was one.
Below you will find my current list of books. Some I have read, some I have not. My goal is to slowly document them on this site and thus make it easier for you to pick the books that seems interesting to you.
| Author | Titel | Genre | Year |
| --- | --- | --- | --- |
| Adam walker | Man vs Ocean | Memoir | 2016 |
| Akiko Busch | Nine Ways to Cross a River | Essay | 2008 |
| Al Alvarez | Pond Life - A Swimmers Journal | Memoir | 2013 |
| Alec Richardson | Ask Me Why I'm Stood Here | Memoir | 2018 |
| Alexandra Heminsley | Leap In | Memoir | 2017 |
| Alok Jha | The Water Book | Nature | 2015 |
| Amanda Beard | In the Water They Can't See You Cry | Autobiography | 2012 |
| Amy Liptrot | The Outrun | Memoir | 2016 |
| Andrew Fusek Peters | Dip - Wild Swims from the Borderlands | Memoir | 2014 |
| Anna Deacon & Vicky Allan | Taking The Plunge | Nature & Philosophy | 2019 |
| Anthony Ervin | Chasing Water - Elegy of an Olympian | Autobiography | 2016 |
| Barbara J Zitwer | The J.M. Barrie Ladies Swimming Society | Fiction | 2012 |
| Ben Oshel Bridgers | Swimming The Hellespont | Memoir | 2002 |
| Bill Broady | Swimmer | Fiction | 2000 |
| Bonnie Tsui | Why We Swim | Philosophy | 2020 |
| Brendan Mac Evilly | At Swim - A Book About the Sea | Essay | 2016 |
| Caitlin Davies | Daisy Belle | Fiction | 2018 |
| Caitlin Davies | Down Stream | History | 2015 |
| Casey Legler | Godspeed | Memoir | 2018 |
| Catherine Kelly | Blue Spaces - How and Why Water Can Make You Feel Better | Science | 2021 |
| Chad Le Clos | Unbelievable! | Autobiography | 2014 |
| Chantal Thomas | Memories of Low Tide | Memoir | 2019 |
| Charles Joscelyne | Crossings - A Swimmer's Memoir | Memoir | 2014 |
| Charles Sprawson | Haunts Of The Black Masseur | History | 1992 |
| Charlie Connelly | The Channel | History | 2020 |
| Charlotte Runcie | Salt on Your Tongue | Memoir | 2019 |
| Chris Ayriss | Hung Out to Dry - Swimming & British Culture | History | 2009 |
| Christopher Love | A Social History of Swimming in England, 1800-1918 | History | 2008 |
| Christos Tsiolkas | Barracuda | Fiction | 2013 |
| Claire Fuller | Swimming Lessons | Fiction | 2017 |
| Claire Kells | Girl Under Water | Fiction | 2015 |
| Conrad Wennerberg | Wind, Waves & Sunburn | History | 1974 |
| Dainon Moody | Rowdy Rising - From Rejected To Unrivaled | Biography | 2016 |
| Daphne Glazer | By the Tide of Humber | Fiction | 2007 |
| Dara Torres | Age Is Just a Number | Autobiography | 2009 |
| Darrel Bristow-Bovey | One Midlife Crisis and a Speedo | Memoir | 2014 |
| Dave Day & Margaret Roberts | Swimming Communities in Victorian England | History | 2019 |
| David Davis | Waterman - The Life and Times of Duke Kahanamoku | Biography | 2015 |
| David Fury | Johnny Weissmuller - Twice the Hero | Biography | 2000 |
| Dawn Fraser | Dawn: One Hell of a Life | Autobiography | 2001 |
| Deborah Cracknell | By The Sea | Science & Philosophy | 2019 |
| Des Renford | Nothing Great Is Easy | Memoir | 1992 |
| Diana Addison Lyle | Swimming Through Life | Biography | 2016 |
| Diana Nyad | Find a Way | Autobiography | 2015 |
| Doloranda Pember | In The Wake of Mercedes Gleitze | Biography | 2019 |
| E. de Lacy & S. Foster | Born to Swim | Memoir | 2014 |
| Elizabeth-Jane Burnett | Swims | Poetry | 2017 |
| Eric Chaline | Strokes of Genius - A History of Swimming | History | 2017 |
| Esther Williams | The Million Dollar Mermaid | Autobiography | 1999 |
| Francois Oppenheim | The History of Swimming | History | 1970 |
| Gavin Mortimer | The Great Swim | Biography | 2008 |
| Gemma Spofforth | Dealing With It - Six Years of Mourning, Medals and Men | Autobiography | 2013 |
| Gillian Best | The Last Wave | Fiction | 2017 |
| Gisela Linder | Schwimmen | Art History | 1999 |
| Glenn Stout | Young Woman and the Sea | Biography | 2009 |
| Greg Louganis | Breaking the Surface | Autobiography | 1995 |
| Howard Means | Splash! 10,000 Years of Swimming | History | 2020 |
| Ian Gordon & Simon Inglis | Great Lenghts | History | 2009 |
| Ian Thorpe | This Is Me | Autobiography | 2012 |
| J. C. Mather | Challenging Waters | Memoir | 2018 |
| Jack Bright | The Bering Papers | Memoir | 2015 |
| Jack Hudson | Swim Wild | Essay | 2018 |
| Jacqui Hargrave | Open Water Woman | Memoir | 2018 |
| Janet Smith | Liquid Assets | History | 2005 |
| Jason Weiss | Cloud Therapy - A Book about Swimming | Memoir | 2015 |
| Jean M. Henning | Jeff Farell - Six Days To Swim | Biography | 1970 |
| Jeff Commings | Odd Man Out | Autobiography | 2010 |
| Jeff Farrell | My Olympic Story - Rome 1960 | Autobiography | 2014 |
| Jeff Wiltse | Contested Waters | History | 2007 |
| Jenny Landreth | Swell - A Waterbiography | History | 2017 |
| Jessica Hepburn | 21 Miles | Memoir | 2018 |
| Jessica J. Lee | Turning - A Swimming Memoir | Memoir | 2017 |
| Jim Harrison | The River Swimmer | Fiction | 2013 |
| Joe Grossman | A History of Marathon Swimming | History | 2017 |
| Joe Minihane | Floating - A Life Regained | Memoir | 2017 |
| John Jerome | Blue Rooms | Memoir | 1997 |
| John von Düffel | Wasser Und Andere Welten | Essay | 2002 |
| John von Düffel | Schwimmen | Essay | 2004 |
| John von Düffel | Kleine Philosophie der Passionen - Schwimmen | Essay | 2000 |
| John von Düffel | Wassererzählungen | Essay | 2014 |
| John von Düffel | Wovon ich screibe - Eine kleine poetik des lebens | Essay | 2009 |
| Jonathan PD Buckley | Cool Swimming | Science & History | 20?? |
| Julie Chekcoway | The Three-Year Swim Club | History | 2015 |
| Julie Murphy | Ramona Blue | Fiction | 2017 |
| Karen Throsby | Immersion - Marathon Swimming, Embodiment & Identity | Sociology | 2019 |
| Kathy Watson | The Crossing | Biography | 2001 |
| Katie May | The Whistable High Tide Swimming Club | Fiction | 2018 |
| Katrina Shawver | Henry | Biography | 2017 |
| Kevin Dawson | Undercurrents of Power - Aquatic Culture in the African Diaspora | History | 2018 |
| Kyle Utsumi | Sydneys Silver Lining | History | 2016 |
| Laura E. Young | Solo, Yet Never Alone - Swimming The Great Lakes | History | 2014 |
| Laurel Blossom (Ed.) | Splash! Great Writing About Swimming | Fiction Anthology | 1996 |
| Leanne Shapton | Swimming Studies | Memoir | 2012 |
| Leisel Jones | Body Lengths | Autobiography | 2017 |
| Lenka Janiurek | Watermarks - Life, Death & Swimming | Autobiography | 2020 |
| Lisa Bier | Fighting The Current | History | 2011 |
| Lisa Congdon | The Joy of Swimming | Cultural History | 2016 |
| Lynn Sherr | Swim - Why We Love the Water | History | 2012 |
| Lynne Cox | Swimming in the Sink | Memoir | 2016 |
| Lynne Cox | Swimming to Antarctica | Memoir | 2004 |
| Lynne Cox | The Day the Whale Came (aka Grayson) | Memoir | 2006 |
| Lynne Roper | Wild Woman Swimming | Memoir | 2018 |
| Margaret A. Jarvis | Captain Webb & 100 Years of Channel Swimming | History | 1975 |
| Mark Ransom | Keep Calm and Swim to France | Memoir | 2018 |
| Mark Spitz | The Extraordinary Life of an Olympic Champion | Autobiography | 2008 |
| Mary-Rose Maccoll | Swimming Home | Fiction | 2015 |
| Michael Phelps | No Limits - The Will to Succeed | Autobiography | 2008 |
| Michael Silver | Golden Girl | Biography | 2006 |
| Michelle Smith | Gold - A Triple Champion's Story | Autobiography | 1996 |
| Mikael Rosén | Öppet Vatten | History | 2016 |
| Mike Humphreys | In Cold Water | Memoir | 2013 |
| Missy Franklin | Relentles Spirit | Autobiography | 2016 |
| Murray Rose | Life Is Worth Swimming | Autobiography | 2013 |
| Nicholas Orme | Early British Swimming 55BC - AD1719 | History | 1983 |
| Nicola Keegan | Swimming | Fiction | 2009 |
| Olivia Laing | To the River | Cultural History | 2011 |
| P.H. Mullen | Gold in the Water | History | 2001 |
| Paul Andrew Asmuth | Marathon Swimming - The Sport of the Soul | Memoir | 2018 |
| Paul Lundgren | Where Mountains Come to Swim | Memoir | 2015 |
| Peter Daland | The History of Olympic Swimming Vol. 1: 1896-1936 | History | 2009 |
| Peter Rock | The Night Swimmers | Fiction | 2019 |
| Peter Selgin | Drowning Lessons | Fiction | 2008 |
| Philip Hoare | The Sea Inside | Essay | 2013 |
| Philip Hoare | Rising Tide Falling Star | Essay | 2017 |
| Ralph Thomas | Swimming | History | 1904 |
| Richard J. Foster | Mark Spitz | Biography | 2008 |
| Rod Gilmour | The Pal Effect | Biography | 2015 |
| Roger Deakin | Swimming | Cultural History | 2017 |
| Roger Deakins | Waterlog | Memoir | 1999 |
| Ronan Foley et al. (Ed.) | Blue Space, Healt and Welbeing - Hydrophilia Unbounded | Science | 2019 |
| Ruth Fitzmaurice | I Found My Tribe | Memoir | 2017 |
| Ryk Neethling | Chasing The Dream | Autobiography | 2008 |
| Sally Friedman | Swimming The Channel | Memoir | 1996 |
| Sam Bleakley | Mindfulness and Surfing | Essay | 2016 |
| Sara Jaffe | Dryland | Fiction | 2015 |
| Sara Stridsberg | Happy Sally | Fiction | 2004 |
| Sarah Kennedy Norquoy | Salt on My Skin | Memoir | 2020 |
| Sean Conway | Hell and High Water | Memoir | 2015 |
| Shadrick & Playforth (ed.) | Watermarks - Writing by Lido Lovers & Wild Swimmers | Essay | 2017 |
| Shane Gould | Tumble Turns | Autobiography | 1999 |
| Shirley Babashoff | Making Waves | Autobiography | 2016 |
| Steve Walker | Where The Crazy People Swim | Memoir | 2016 |
| Strel & Mohlke | The Man Who Swam The Amazon | Memoir | 2008 |
| Susie Parr | The Story of Swimming | History | 2011 |
| Tessa Wardley | The Mindfull Art of Wild Swimming | Essay | 2017 |
| Tetsutaro Hasegawa (ed.) | Swimming In Japan | History | 1935 |
| Tim Dahlberg | America's Girl | Biography | 2009 |
| Tim Johnson | History of Open-water Marathon Swimming | History | 2006 |
| Tim Winton | Breath | Fiction | 2008 |
| Tom Gregory | A Boy in the Water | Autobiography | 2018 |
| Tristan Gooley | How To Read Water | Nature | 2016 |
| Victoria Whitworth | Swimming With Seals | Memoir | 2017 |
| W. Hodding Carter | Off the Deep End | Memoir | 2008 |
| Wallace J. Nichols | Blue Mind | Sociology | 2014 |
| William Thomson | The Book Of Tides | Nature | 2016 |
| William Thomson | The World Of Tides | Nature | 2017 |
| Wim Hof | The Wim Hof Method | Philosophy | 2020 |
| Yusra Mardini | Butterfly - From Refugee to Olympian | Autobiography | 2018 |
| Zsuzsa Bánk | Svømmeren | Fiction | 2005 |
| Lydia Yuknavitch | The Chronology of Water | Memoir | 2010 |